What is Mobile Tyre Fitting Leicester?
No matter where you are in Leicester or Leicestershire, be that home, work or anywhere. Simply Tyres expertly trained mobile tyre fitting technicians can bring the tyre centre to you. We eliminate the waiting rooms, hassle and stress of visiting your local tyre centre or garage and we can fit your new tyres just about anywhere. You can simply hand us the keys and we do the rest. No time off work or blocking out parts of your day. If you haven't used our mobile service before, check out our amazing reviews on Google to give you that extra piece of mind. Our vehicles are fitted with the latest equipment and technology only found in high-end centres so your pride and joy is in safe hands!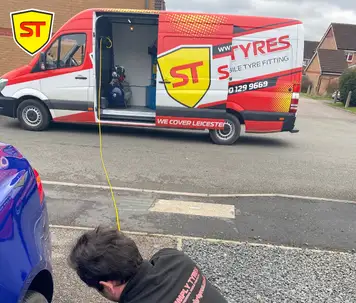 How Does Our Mobile Tyre Fitting Service Work?
The same as any tyre fitting centre! We carry out all tyre related services including puncture repair, TPMS replacement, tyre swapping, locking wheel nut removal and much more!
We don't just fit car tyres but we also fit and repair tyres to 4x4's, SUV's, vans, caravans and trailers. We really are your one stop tyre shop.
What Tyres Do We Stock?
We have access to 1000's of brands to suit all vehicles and budgets. We also offer 4 months interest free credit on 2 or more Nexen branded tyres for further details click here.
What Does Our Mobile Tyre Fitting Include?
All our prices include the following:
Tyres fitted or puncture repair carried out at your location
Balancing of the wheel or wheels
A brand new valve (This does not include Aluminium or TPMS)
Environmentally friendly disposal of the old tyre
FREE check of any other tyres on the vehicle
Where & When Can We Book Mobile Tyre Fitting?
We cover the whole county of Leicestershire and in some cases we go even further 24/7. Our standard hours are 8.00am to 6.00pm - Monday to Friday. However we operate an emergency service outside these hours (Call out charges apply) and do have fitting appointments on Saturday or Sunday (additional fees apply)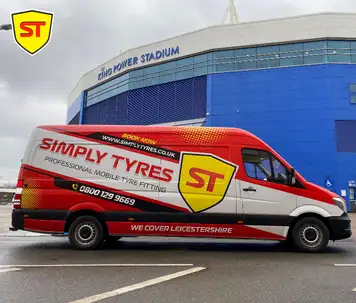 So Why Choose Mobile Tyre Fitting Services From Simply Tyres?
There are a number of benefits of using our 24 hour mobile tyre fitting Leicester including the following:
Save Time and Money
No more having to drive to and wait around at the local fitting centre whilst your tyres are. Our mobile tyre fitters will come to you at home, work or anywhere across Leicestershire. Leaving you free to carry on with your day while we do the hard work.
Prompt and Efficient Service
We make sure our mobile tyre fitting technicians reach your chosen location within your chosen time slot and whether you choose to call or our online system it makes it a hassle-free process.
Highly Skilled Technicians
Our team of mobile tyre fitting technicians consist of highly trained IMI (Institute of Motoring) professionals who use advanced tools to ensure flawless fitting during our visit. Additionally, they will also perform safe disposal of your old car tyres in an eco-friendly manner. So, what are you waiting for? Your search for "Mobile tyre fitters near me" is over. Visit our website to schedule your appointment today! You can also call us on 0116 403 0303 to find out more.
24hr Emergency Tyre Fitting?
Here at Simply Tyres we operate a 24hr Emergency call out service across Leicestershire, so no matter what time of day we will be there to help you get back on the road, no matter what the weather.
Whether you have a puncture on your drive or a blow out on the M69, from Hinckley to Wigston or Lutterworth to Loughborough. Our mobile tyre fitting technicians are available to replace your tyre at the roadside, using our fully equipped response vehicles.